Saving Retail
By Geoffrey Moore,

Jul 18, 2017
Six-Sigma is Not Just for Supply Chains
Okay, so you know a sector is in trouble when there is a Web page in Wikipedia entitled "The Retail Apocalypse." This post is not about how much trouble retail is in. This one is about how it can get out.
Let's set the table first. In the past several decades enormous progress has been made on optimizing the supply chain, so much so indeed, that today supply is no longer the scarce ingredient in the economic equation. Instead it is demand—we have more goods than we can sell, and we are all competing for the new scarce ingredient—the customer.
In this new world, digital takes on a whole new meaning. It is no longer about taking cost out of the supply chain—done that. It is now about taking friction out of the delivery chain. That is, instead of applying six sigma thinking to cost-reduce its internal processes, now retailers and anyone else interfacing directly with consumers as customers should be applying it to their external facing processes. For retailers, this work needs to start with the retail transaction itself.
Look at Amazon as a case in point. You would have to grant they have a fabulous brand in retail—maybe the best ever—but here is the thing: They don't do branding. Amazon's brand has nothing to do with what it says. There is no ad campaign telling you how great it is to be an Amazon customer. Instead its brand is all about what it does. They don't talk—they do.
Specifically, what they have done with relentless focus is apply the principles of six sigma to the retail transaction process. On the supply side, to be sure, they have radically improved price, availability, and selection—the three anchor principles of retail—but that is not where their true competitive advantage lies. Instead it lies in taking all the latency, all the wait time, all the registration effort, all the extra charges scrutiny—in short, all of the transaction costs out of the consumer transaction. They are not winning by providing a better experience—they are winning by providing a better un-experience.
It is scary how good they have gotten at this, but the fact remains, any retailer can make huge strides in this area if it is willing to make it the top priority. Just ask yourself—or apply data analytics to determining—what part of the transaction process you have in place today gives your consumers the most grief, and then ask, how could we reengineer the process to eliminate this cause? Six-sigma is not rocket science. What it does do is take a step by step approach to optimizing any system end to end. What it specifically does not do is transfer a transaction cost from one constituency to another. That doesn't solve the problem, it just shifts the burden.
Sounds obvious until you realize we have been doing this sort of thing to our retail consumers for over a century. That's because, up until quite recently, the end users of our goods and services were not the scarce ingredient and therefore could be expected to make their own way to and from our places of business, to accept whatever was on the shelf, to collect coupons offline to present at checkout, to wait in line for the privilege of buying our goods, to provide identification during that process if requested, and to transport their goods back home. Now ecommerce has changed all that. It doesn't invalidate the value of brick and mortar retail; it just puts into high relief the many transaction costs involved.
Technology can help here, but only if it is applied with a six-sigma ethic. Take check-out for example. Self-checkout seemed like a good idea, but the way it has been introduced to date, it is not eliminating transaction costs, it is simply transferring them onto the consumer along with a new added cost of learning and adopting a new technology. What would be a better way to leverage technology? How about no check-out? That's one of the many things Amazon is piloting. Could you? Sure, if you are willing to make reengineering the retail transaction experience your number one priority. Just remember it is what you do—not what could you say—that changes the game.
It is a daunting journey, but you can take heart from one thing. Consumers do not like to change brands. They do not like to change their point of sale retailers either. We are all creatures of habit, and when we find a path that works, we like to stay on it. So you don't have to do anything spectacular to compete with Amazon. You already have the thing that they most want—namely, your existing base of customers. Right now they are still yours. You just have to be able keep them. And that means you have to keep up. If you show your customers that you are investing in their success—again, not through saying but through doing—they will stay loyal to you.
That's what I think. What do you think?
This article was originally published on LinkedIn Pulse.
About the author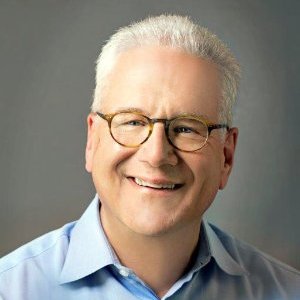 Geoffrey Moore is an author, speaker, and advisor who splits his consulting time between start-up companies in the Mohr Davidow portfolio and established high-tech enterprises, most recently including Salesforce, Microsoft, Intel, Box, Aruba, Cognizant, and Rackspace.
Moore's life's work has focused on the market dynamics surrounding disruptive innovations. His first book, Crossing the Chasm, focuses on the challenges start-up companies transitioning from early adopting to mainstream customers. It has sold more than a million copies, and its third edition has been revised such that the majority of its examples and case studies reference companies come to prominence from the past decade. Moore's most recent work, Escape Velocity, addresses the challenge large enterprises face when they seek to add a new line of business to their established portfolio. It has been the basis of much of his recent consulting. Irish by heritage, Moore has yet to meet a microphone he didn't like and gives between 50 and 80 speeches a year. One theme that has received a lot of attention recently is the transition in enterprise IT investment focus from Systems of Record to Systems of Engagement. This is driving the deployment of a new cloud infrastructure to complement the legacy client-server stack, creating massive markets for a next generation of tech industry leaders.
Moore has a bachelors in American literature from Stanford University and a PhD in English literature from the University of Washington. After teaching English for four years at Olivet College, he came back to the Bay Area with his wife and family and began a career in high tech as a training specialist. Over time he transitioned first into sales and then into marketing, finally finding his niche in marketing consulting, working first at Regis McKenna Inc, then with the three firms he helped found: The Chasm Group, Chasm Institute, and TCG Advisors. Today he is chairman emeritus of all three.
---
Tags
Accelerate your organization's journey to analytics maturity
Get the data sheet to learn how the Research & Advisory Network advances analytics capabilities and improves performance.