Operational Excellence is the New Customer Intimacy
By Geoffrey Moore,

Jul 24, 2018

It was almost thirty years ago that Michael Treacy and Fred Wiersema, co-authors of The Value Disciplines of Market Leaders, introduced one of the great strategy frameworks of all time. They argued that market leaders achieve competitive advantage by excelling in one of three value creation disciplines:
Product Leadership, beating out competing offers with better performance

Customer Intimacy, beating out other offers with better experiences

Operational Excellence, beating out other offers with better prices
Winning companies in their view took one of these three to an extreme, dramatically separating themselves from the competition, while aiming for "good enough" on the other two.
Examples of this strategy abound. In the automobile industry, Tesla focuses on product leadership, Lexus on customer intimacy, and Toyota on operational excellence. In financial services, Progressive focuses on product leadership, USAA on customer intimacy, and PayPal on operational excellence. In retail stores, REI focuses on product leadership, Nordstrom on customer intimacy, and Walmart on operational excellence. You get the idea.
But here's the thing. In this new world of digital transformation, the reward for differentiating on operational excellence is no longer just a better price; it is now also a better customer experience. Amazon is the canonical example. Their algorithms for operational excellence have processed all the log files they can get their hands on as a means for creating probabilistic models to serve you more efficiently and more effectively. They don't know you at all, but if feels as if they did. And so, if you are like most people, you have signed up for Amazon Prime—heck, you might as well just send them your paycheck and be done with it. How does another retailer compete with that?
Tesla's operationally excellent strategy is creating similar challenges for the auto industry. Their method of maintaining your vehicle remotely via software instead of taking it into a shop is another example of a great customer experience—just ask a Tesla owner how they feel about their car (and then be prepared for a tale only slightly shorter than the Ancient Mariner's). Uber, despite all its cultural woes, is still an amazing customer experience, not because you had a great chat with the driver (although that can happen) but because its operationally excellent software system makes getting from A to B on time both predictable and transparent. Of course, some companies still do go the extra mile and pile on a second layer of love. Airbnb is not only an operationally excellent system, it also goes out of its way to promote the forming of personal relationships between hosts, guests, and adjunct service providers. Zappos is famous for doing the same thing for shoe buyers, as is eHarmony for match-making.
This is all great for the customer, but it puts serious pressure on your company if you have yet to embrace digital transformation. You are not just giving away cost advantages to next-generation competitors who are leveraging automation to accomplish what you are doing manually. You are also silently disappointing your customers who increasingly expect to meet their everyday needs digitally through self-service rather than call centers or store associates. To be sure, there will always be value to the human touch, but that touch needs to be reserved for truly complex situations beyond what can be readily automated. Otherwise you're just making your customers wait for you in a queue.
That's what I think. What do you think?
Originally published on LinkedIn Pulse
About the author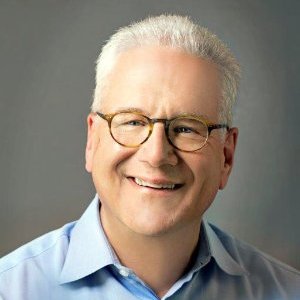 Geoffrey Moore is an author, speaker, and advisor who splits his consulting time between start-up companies in the Mohr Davidow portfolio and established high-tech enterprises, most recently including Salesforce, Microsoft, Intel, Box, Aruba, Cognizant, and Rackspace.
Moore's life's work has focused on the market dynamics surrounding disruptive innovations. His first book, Crossing the Chasm, focuses on the challenges start-up companies transitioning from early adopting to mainstream customers. It has sold more than a million copies, and its third edition has been revised such that the majority of its examples and case studies reference companies come to prominence from the past decade. Moore's most recent work, Escape Velocity, addresses the challenge large enterprises face when they seek to add a new line of business to their established portfolio. It has been the basis of much of his recent consulting. Irish by heritage, Moore has yet to meet a microphone he didn't like and gives between 50 and 80 speeches a year. One theme that has received a lot of attention recently is the transition in enterprise IT investment focus from Systems of Record to Systems of Engagement. This is driving the deployment of a new cloud infrastructure to complement the legacy client-server stack, creating massive markets for a next generation of tech industry leaders.
Moore has a bachelors in American literature from Stanford University and a PhD in English literature from the University of Washington. After teaching English for four years at Olivet College, he came back to the Bay Area with his wife and family and began a career in high tech as a training specialist. Over time he transitioned first into sales and then into marketing, finally finding his niche in marketing consulting, working first at Regis McKenna Inc, then with the three firms he helped found: The Chasm Group, Chasm Institute, and TCG Advisors. Today he is chairman emeritus of all three.
---
Tags
Accelerate your organization's journey to analytics maturity
Get the data sheet to learn how the Research & Advisory Network advances analytics capabilities and improves performance.