BI versus OI: A Distinction with Very Big Difference
By Geoffrey Moore,

May 22, 2018

As a reader of this blog, you are likely quite familiar with BI (Business Intelligence). It has been a foundational element of enterprise computing for over thirty years, the mainstay of iconic companies like SAS, Cognos (now IBM), and BusinessObjects (now SAP). And I expect you may also have heard of OI (Operational Intelligence), but I am willing to bet you do not have a clear sense of what precisely that latter term refers to.

Looking up Operational Intelligence in Wikipedia does not help much. The definition there blurs the distinction between BI and OI by combining attributes from each. I have reprinted it below with what I consider to be the BI attributes in blue bold and all the OI ones in red italics:

It is not that this definition is wrong. It is just that it suppresses the differences between OI and BI, differences that are key for enterprise executives to understand. I think we would all be better served, therefore, if we first began by defining Operational Intelligence in direct contrast to Business intelligence, along the following lines:

In this context, BI is a highly evolved form of decision support software whereas OI is an emerging next-generation form of digital automation. And that is a very big difference indeed.
It all begins with a distinction between data and signals, something I discussed at length in a recent blog "Records versus Signals." Data, in this context, consists of certified recordings of explicitly intended transactions, the stuff we store in Systems of Record and audit at the end of a fiscal year. Signals, by contrast, consist of logged detections of implicitly intended interactions, the stuff we find in the machine data that underlie Systems of Engagement and the Internet of Things. The data in transaction records has been available to us for half a century via reports and queries, but it is only in the past few years, with the advent of hyper-low-cost computing and storage, that the signals in machine data logs have become an asset to be mined.
Mining these two kinds of data drives two very different kinds of outcomes. Using BI to mine Systems of Record data looks to improve "human-in-the-loop" business processes by arming decision-makers with a higher quality of insights. It answers questions like "Who are our best customers? What products are growing fastest? Who is our most challenging competitor?" Its goal is to target markets, focus R&D, and position products to their best advantage. These are considered decisions that are reviewed before they are implemented, an approach that aligns with long-term planning.
By contrast, using OI to mine machine data logs seeks to improve "human-above-the-loop" processes—ones in which humans do not execute the process but rather have governance over it. Here the heavy lifting being done by computer algorithms responding in milli-seconds to real-time events, the goal being to field a response as quickly as possible with the highest probability of success. What ad should I present to this user? What discount should I offer this prospect? What content should I block from view? Here reviews happen after implementation, the goal being to course correct as quickly as possible, an approach that aligns with agile development.
Stairway to Heaven
Now, to be fair to our friends at Wikipedia, there is a continuum of analytic capabilities that connects these two poles, one that can be represented by an OI maturity model, or what I like to call a Stairway to Heaven, along the following lines: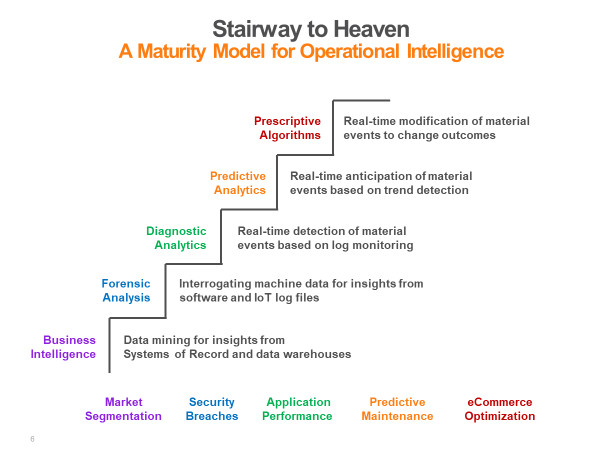 If you look at the deployment of Operational Intelligence today, the vast majority of the use cases are on stairs 2 and 3, where IT organizations around the globe are using it to address cyber-security and IT operations challenges. Indeed, without OI most of our global IT systems simply could not operate.
That said, all the business disruption that is driving digital transformation across industry after industry is due to a few companies exploiting the two stairs at the top with brutal effectiveness. All the BI in the world will not help retailers in their battle with Amazon, cab companies in their battle with Uber, or cable TV in its battle with Netflix. For that they need to get to the top of the OI Stairway to Heaven as fast as they possibly can.
That's what I think. What do you think?
Originally published on LinkedIn Pulse
About the author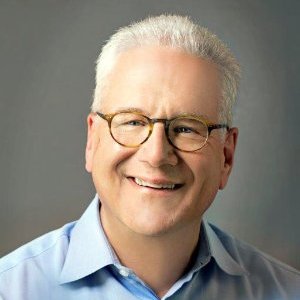 Geoffrey Moore is an author, speaker, and advisor who splits his consulting time between start-up companies in the Mohr Davidow portfolio and established high-tech enterprises, most recently including Salesforce, Microsoft, Intel, Box, Aruba, Cognizant, and Rackspace.
Moore's life's work has focused on the market dynamics surrounding disruptive innovations. His first book, Crossing the Chasm, focuses on the challenges start-up companies transitioning from early adopting to mainstream customers. It has sold more than a million copies, and its third edition has been revised such that the majority of its examples and case studies reference companies come to prominence from the past decade. Moore's most recent work, Escape Velocity, addresses the challenge large enterprises face when they seek to add a new line of business to their established portfolio. It has been the basis of much of his recent consulting. Irish by heritage, Moore has yet to meet a microphone he didn't like and gives between 50 and 80 speeches a year. One theme that has received a lot of attention recently is the transition in enterprise IT investment focus from Systems of Record to Systems of Engagement. This is driving the deployment of a new cloud infrastructure to complement the legacy client-server stack, creating massive markets for a next generation of tech industry leaders.
Moore has a bachelors in American literature from Stanford University and a PhD in English literature from the University of Washington. After teaching English for four years at Olivet College, he came back to the Bay Area with his wife and family and began a career in high tech as a training specialist. Over time he transitioned first into sales and then into marketing, finally finding his niche in marketing consulting, working first at Regis McKenna Inc, then with the three firms he helped found: The Chasm Group, Chasm Institute, and TCG Advisors. Today he is chairman emeritus of all three.
---
Tags
Accelerate your organization's journey to analytics maturity
Get the data sheet to learn how the Research & Advisory Network advances analytics capabilities and improves performance.