IIA May 2016 Newsletter
May 31, 2016
The Future of Cognitive Technologies and Their Impact on Human Workers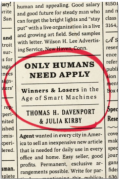 Imagine a world where computers drive cars, pick stocks, lead classrooms, and provide legal assistance. These smart machines, powered by advanced artificial intelligence, are able to learn, predict, comprehend, and make decisions faster and more accurately than the human mind.
In their new book, Only Humans Need Apply: Winners and Losers in the Age of Smart Machines, Tom Davenport and co-author Julia Kirby, a senior editor for the Harvard University Press, argue that this world is not a sci-fi pipe dream, but one which we will soon inhabit. An entertaining and thought-provoking read, Only Humans Need Apply explores the central question of that not-so-futuristic world: with the machines capable of taking on much of our current work, what happens to us humans?
Is Your Company Advanced in Analytics?
Everyone knows that Amazon and Google are great at analytics. But what about these companies makes them successful at turning data into insights? And how do other companies and industries compare to the digital natives? For your company to success with its analytics initiatives, it must have a clear idea of what high performance looks like, and which companies are getting it right.
To this end, IIA has just completed an in-depth market study, using our proprietary analytics maturity assessment model to assess 50 companies across 10 industries, including "digitally native" high performing companies and blue-chip industrial firms.
Catch up on our finding by watching our recorded webinar, Ranking Analytics Maturity by Industry, which presented highlights and key findings from this enterprise analytics maturity market study.
---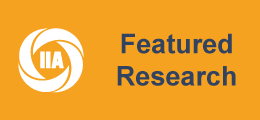 Featured Research
Stronger Cybersecurity Starts with Data Management
By Christopher Smith, Evan Levy, and Robert Morison
A paradigm shift is underway in the cybersecurity industry. Cybersecurity professionals are moving from a focus on attacker prevention to attacker detection. Preventing the "bad guys" from getting in is still important, by cyber adversaries are increasingly able to bypass even the most sophisticated network defenses.
IIA clients can read more in our Research Library.
The Chief Analytics Officer's Guide to Employee Attrition
By Greta Roberts
The most important difference between employee versus customer churn is that a business has the greatest choice in hiring someone; predictive analytics can play a formative role in the employee mix.
This article will walk through a proven, holistic framework for measuring the cost of employee churn. The framework enables the calculation of employee lifetime value and the use of advanced predictive analytics to solve the employee churn problem faced by so many companies.
IIA clients can read more in our Research Library.
---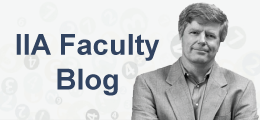 On Our Blog

Catch up on some of our recent posts:
---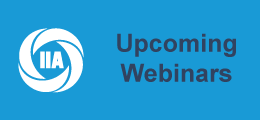 IIA Webinars:
IoT Analytics in Practice
Join us on June 7: IIA Faculty Member, Bill Franks will discuss how organizations can realize the full value of IoT data, and use analytics to make investments in IoT technology worthwhile. Register now.
---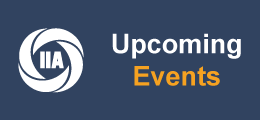 Upcoming Events:
Chief Analytics Officer Forum
June 21-22, Toronto, Ontario
Join IIA Research Director Daniel Magestro and CAO and VP-Level analytics executives to discuss the most critical data and analytics challenges faced by their organizations.
Register at caoforumcanada.com.
Beyond the Cutting Edge of BI & Analytics
June 28, Seattle, WA
IIA CEO Jack Phillips will present our recent research on the state of analytics maturity and the competitive advantages available for firms that embrace analytics.